Transforms a garden hose into a pressure washer. Great for cleaning decks, driveways, patios, cars, and other outdoor stains.
The High Pressure Power Washer Wand connects to any standard ¾" garden hose (and other sizes with standard 1" female hose bib connectors), or may be used with a powered pressure washer system using the included adapter.
Water pressure gauge and 2 different nozzles allow you to go from a powerful jet stream to clean to a gentle spray to water delicate plants.

---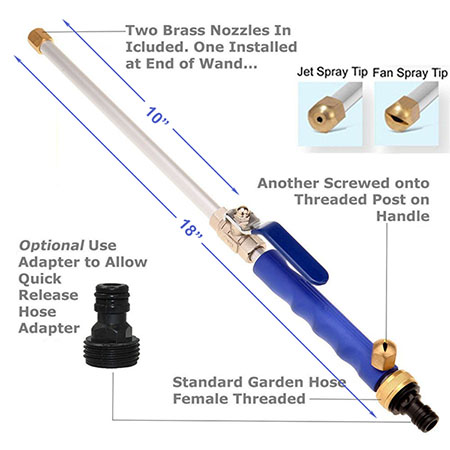 Rust and Corrosion Resistant ~ Construction: Brass standard garden hose coupler and two (2) spray tip.
Galvanized steel ball valve casing with stainless steel fittings, and Aluminum Washer Wand tubing.
Fits all ¾" standard garden hoses, and other sizes with standard 1" female hose bib connectors.
Hose Adapter Included ~ Female threaded standard garden hose to ½" quick connect hose coupler with "O" ring Adapter included. Use with powered pressure washer ½" hose with female quick connect coupling.
Comes with two brass nozzles – one for a concentrated spray stream, and the other for a wide flat fan power spray.
Washer Wand has ¼" ball valve to control spray (on, off, and flow adjustment).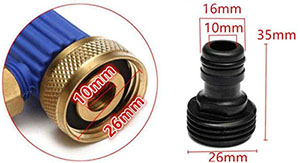 ---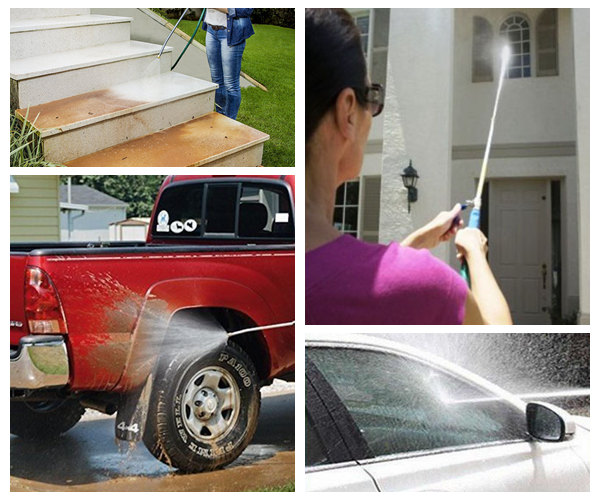 How high up in the air could this spray water?
It's largely depend on the water pressure ordinarily in your water system.The Spray Nozzle only boosts that pressure to a limited degree, so if you have low pressure in your water pipes, attaching the Spray Nozzle may not be enough to get the water stream up to high altitude.
---
Package Included:
1x High Pressure Power Washer Jet
1x Connector
2x Brass Nozzles
2x O-Rings
Note: no electricity and no power, there are 2 spray tips, one is high pressure stream sprayer, one is fan sprayer.