Nibbler Cutter Drill Attachment Cut sheet Metal, Profiles, Corrugated, Pipes and other materials Safely and Easily.
Features:
It fits onto a standard drill (keyed or keyless chuck).
Cutting Heads adjust 360°(forwards, backwards, left or right and in between!) for easy cutting in any space.
Cuts corrugated, round, or flat materials up to 14 Gauge (2 mm thick) (varies by material).
Cuts any shape to 12 mm radius.
Nibbler can cut complex profiles easily without disengaging the work piece.
Nibbler can cut a powder coat finish without damage to the paint.
Highly portable – Fits in nicely in the corner of your toolbox.
Offering the tightest radius of cut available on the market.
Excellent cutting effect without any burrs and sharp edges – this tool is SAFE.
Suitable for car repair and maintenance and metal sheet productions.
---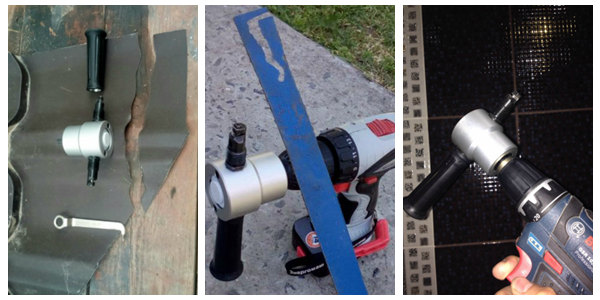 Maximum cutting capacities:
Steel Plate 1.8mm
Stainless Steel 1.0mm
Copper/Aluminium Plate 2mm
Plastic/Fibreboard 2mm
Leaving a 4mm wide cut path as it cuts.
Package include:
1x Handheld Nibble
1x Wrench