Tired of losing your drill bits? Don't you wish you had all of your screwdrivers in one place at the same time? Wish changing bits was easier? Well the Bit 360 Screwdriver is the solution to all of your problems!
This high performance screwdriver takes all of the hassle out of conventional multi-bit screwdrivers. With Bit 360 Screwdriver's easy to change design,
you'll never lose another drill bit again
.
Each bit is also magnetized
so you won't ever have to deal with losing your screws either!
BIT 360 Screwdriver is the revolutionary, easy to use screwdriver that everyone should own!
Changes bits easily and quickly with a twist.
BIT 360 is magnetized, so the screw stays securely on the bit without falling.
BIT 360 comes with 6 pre-loaded bits to fit virtually any screw, or add your own bits to get a grip on any job around the house, in the workshop, the garage or on the jobsite.
Just pull, to remove the bit from the tip holder, twist the chamber to select the desired bit, and push to load the selected bit and it's ready for use!
---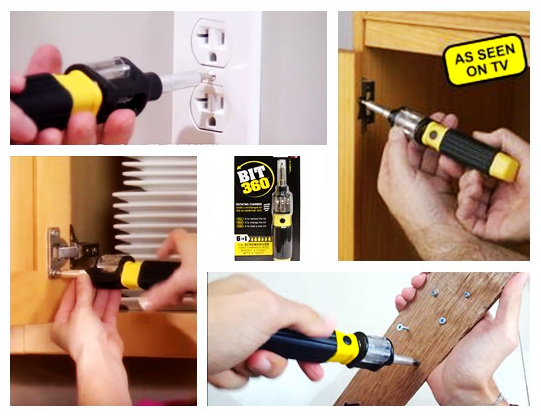 The BIT 360 Screwdriver is an easy-to-use tool everyone should own. Whether you are a professional or a weekend warrior that likes to do their own repairs, this item will prove an invaluable addition to your collection. Changing out bits is a simple process, all you have to do is
twist to remove and then twist on the bit
you want to replace it with.
The secret to this magnetic tip screwdriver is the rotating chamber that holds six different bits, preloaded and ready to use. Just pull to remove the bit from the tip holder, twist to select the desired bit and push to load the selected bit and it's ready for use.
You can even use the bits that you already own. This As-Seen-on-TV screwdriver comes with a removable chamber that makes it easy to switch the parts around while its magnetic tip helps to hold screws in place while you work.
---
How to Use Bit 360 Screwdriver
The 360 twist 6 in 1 screwdriver has a rotating chamber that holds & exchanges all the screwdriver bits, changes bits quickly & easily with a twist. Simply pull it to remove the bit, twist it to change the bit, & push it to load a new bit, includes 6 common screwdriver bits or you can load your own, no more losing bits or misplacing them, made to withstand all types of wear & tear.


---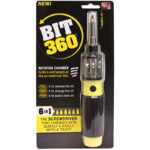 Package Included:
1x BIT 360 Screwdriver Body
6x Common Screwdriver Bits:

Phillips #1, Phillips #2, Phillips #3,
Slotted #3, Slotted #4 and Slotted #6.